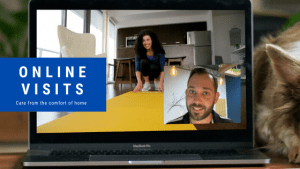 Online Chiropractic Visit
If you are looking for an online doctor visit, look no further. Any Spine Chiropractic is now offering online appointments for the residents of Georgia. We are providing this service because many musculoskeletal complaints can be treated effectively remotely.
Q: Online Chiropractor? Doesn't chiropractic need to be hands-on?
A: We indeed use hands-on techniques to get some of our Atlanta clients better. However, many of our patients tell us the most valuable part of their treatment is the knowledge of what is happening with their body and having a plan in place to get better. We can do that through our virtual chiropractic visit, which allows us to watch you move and perform testing to determine the cause of your pain.
Q: How else can Any Spine online chiropractic care help me?
A: While chiropractic is a very hands-on profession, technology allows us an opportunity that in-office visits can't: A glimpse into your daily life. How is your home computer set up? Where do you most often sit? What foods are in your pantry? All of this can give Dr. Zach more insight into what might be causing your aches and pains.
Q: What is the cost of an online chiropractic visit?
A: In these unprecedented times, Any Spine Chiropractic is offering online visits on a "pay what you can" basis. The standard fee is $55 if you can pay that, excellent. If not, pay what you can. We are all in this together. We need to help each other get through these times.
Q: How long will the online chiropractic visit last?
A: The visit is 15-20 minutes in length. After the appointment, Dr. Zach will email you any recommended at-home exercises and follow up as needed.
Let's set up an online consultation today 🙂 Your body will be glad you did.